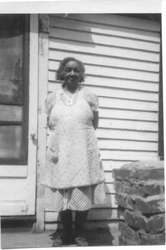 Earle Report of Massachusetts 1861

---

Chappiquiddic Family Names

Name,Age,Sex

Baker,

Charlotte M.(35)(f)

Belain,

Matilda S.(6)(f)

Timothy E.(8)(m)

Harriet Ann(9)(f)

Mary B.(11)(f)

Luecretia(27)(f)

William(31)(m)

Harriet R.(38)(f)

Lawra(42)(f)

David(43)(m)

George J.(49)(m)

Isaiah(52)(m)

Brown,

Alonzo(9)(m)

Lydia B.(14)(f)

Edwin L.(20)(m)

Emily(24)(f)

James W.(28)(m)

Trilona(31)(f)

Charles(43)(m)

Lucy Ann(59)(f)

Cook,

Frederick(27)(m)

Thaddeus(34)(m)

Curtis,

Elizabeth C.(11)(f)

Frances E.(32)(f)

Love P.(13)(f)

Freeman,

Tristram(36)(m)

Goodrich,

Samuel P.(12)(m)

Sarah Louisa(15)(f)

Theodate(45)(f)

Francis(53)(m)

Gould,

Richard(39)(m)

Gould Jr.,

Richard(10)(m)

Harris,

Ferriby(78)(f)

Havens,

Mary(33)(f)

Jackson,

James Thomas(11)(m)

James,

Mary Ann(34)(f)

Joab,

Jane Ann(12)(f)

Ann(36)(f)

Charlotte D.(?)(f)

Joab Jr.,

Isaac(?)(m)

Jonas,

Henry(22)(m)

Joseph,

Eleanor(83)(f)

Layton,

John D.(32)(m)

Mary(37)(f)

Thomas(46)(m)

Matthews,

Isadora(2)(f)

Oliver D.(7)(m)

Eunice C.(10)(f)

Prince William(14)(m)

Margaret P.(34)(f)

Peters,

Aurilla(38)(f)

Johnson(76)(m)

Prince,

Love(56)(f)

Ross,

Hannah(39)(f)

Sams,

Angeline(25)(f)

Mazilla(27)(f)

Sophronia(30)(f)

Jane(63)(f)

Simpson,

George(20)(m)

Ann Eliza(27)(f)

Simon(35)(m)

Lovisa(52)(f)

Zadok(59)(m)

Summons,

Jared(40)(m)

Taylor,

Jane Ann(20)(f)

Webquish,

Charles F.(12)(m)

Anstis G.(26)(f)

West,

John R.(2)(m)

Betsy(38)(f)





Through the legistrative Act of 1859, John Milton Earle of Worcester was appointed to investigate the remaining Massachusetts Indians,Earle was named a Commissioner " to examine into the condition of all Indians and the descendants of Indians dominciled in this Commonwealth,and make report to the Governor, for the information of The General Court."

The actual document was submitted by Earle in 1861 consisting of three sections.
The first section was a 132 page report,the second section a proposed act to enfranchise , the third section an appendix of seventy eight pages listing Native American families. He listed a total of 378 families consisting of 1448 people. The purpose of this report was to determine whether or not to place Native Americans on the same legal footing as other residents of the Commonwealth of Massachusetts. The passage of enfranchisement in 1869 dissolved the reservations(plantations) within the state without the approval of the Federal Government.

This report was more detailed than the previous Briggs Report. The Earle Report lists them by the tribe they were born to ,then their residence while the Briggs Report only listed their residence. You may notice this report has missing names because of this fact. They are listed with another tribe. See Names of 1849 page(Earle Report ethnicity in parenthesis) to compare the two lists to trace your family.





If you find any of these names in your family history please contact us. The family names above are listed in the Earle report as a "Plantation Tribe" from Chappequiddic(Martha's Vineyard).